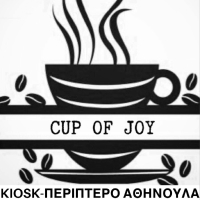 Periptero Athinoula - Cup of Joy Cafe - Aradippou
Espresso Macchiato Double
Hot Tea

English Breakfast, Chamomile, Mint, Green Tea, Lemon

Hot Chocolate

With milk or water

Cold Chocolate

With milk or water

Milkshake Strawberry Blend
Kitsios Coffee with Milk with Sugar

Kitsios Coffee Black Coffee with Sugar

Kitsios Coffee Black Coffee No Sugar

Kitsios Coffee with Milk No Sugar

Pokka No Sugar with Milk 240ml

Starbucks Cappuccino 220ml

Starbucks Caramel Macchiato 220ml

Starbucks Skinny Latte 220ml
Souroti Sparkling Water 250ml

Perrier Sparkling Water 330
Alcohol consumption is prohibited by law to all individuals under 18 years of age. ID might be required upon delivery for age verification purposes

Alcoholic drinks are only available for users over 18 years old.
Confirm your age here.
Schweppes Soda Lemon 330ml

Schweppes Bitter Lemon 330ml

Schweppes Pink Grapefruit 330ml

Schweppes Tonic Water 330ml
Lipton Green Tea with Peach 500ml

Lipton Green Tea with Lemon 500ml
Keanita Mango and Pomegranate 250ml

Energy Juice 8 Fruits 250ml
Shark Apple and Melon 250ml

Shark Zero Calories 250ml

Shark Vitamin C Xplosion 250ml

Shark Vitamin B Power 250ml

Shark Strawberry Lime 250ml

Monster Ultra White 500ml

Monster Absolutely Zero 500ml

Monster Energy Green 500ml

Powerade Mountain Blast 380ml
Cadbury Fruit and Nut 45g

High Protein Low Sugar Peanut Butter Chocolate 65g

High rotein Low Sugar Double Chocolate 65g
Pringles Salt and Vinegar 165g
Lanitis Kiddo Chocolate Milk 250ml
Catalog prices include VAT.
Shop address
Aradippou, Larnaka

Parthenonos 27, Aradippou, Cyprus, 7104
Working hours
Monday

08:00-21:30

Tuesday

Today

08:00-21:30

Wednesday

08:00-21:30

Thursday

08:00-21:30

Friday

08:00-21:30

Saturday

08:00-21:30

Sunday

08:00-18:00
Info
Official Name:


Business Registry Number:


VAT Number:
-

Head Office Address:
, ,