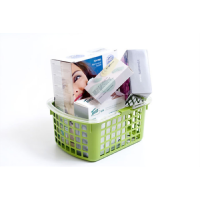 Health Products Ourania Solomou

Information
Foody Deals
How the delivery of Health Products Ourania Solomou works

Any orders placed Monday, Tuesday, Thursday and Friday before 14:30 and Wednesday before 13:30 will be delivered on the next working day.
Any orders placed after those times will be delivered within 2 working days.
Orders placed on weekends will be delivered Tuesday

Delivery takes place Monday – Friday 08:00 – 17:00


We inform you that we do not offer delivery of prescription and non-prescription medicine, as it is not allowed in Cyprus by law

There might be a small difference in the final price of your order due to produce items charged by weight.

The final price in this case will be lower and the amount will be refunded to your card within 5 working days.
Protective Mask KN95 €4 from €6.5
Alphanova Bebe SPF50 Sun Cream 50ml

Babyderm Invisible Sun Spray SPF50 200ml

Babyderm Sunscreen SPF50 200ml

Frezyderm Sun Baby Cream SPF25 75ml

Frezyderm Sun Colour Velvet Face SPF50+ 50ml

Frezyderm Sun Velvet Face SPF50+ 50ml

Frezyderm Sun Kids Nip SPF50+ Plus 175ml

Frezyderm Sun Kids WetSPF50+ Plus Spray 200ml

Frezyderm Sun Seaside Dry Mist Spray 300ml

Frezyderm Sun Velvet Body Lotion SPF50+ 125ml

Frezyderm Sun Velvet Face Cream SPF30 50ml

Mustela Baby Sun Face Cream 40ml

Mustela Sun Lotion SPF50+ 200ml

Mustela Sun Lotion SPF50+ 100ml

Uriage Bebe Bariesun Mineral SPF5+ 50ml

Apivita Sun-Care Body Cream SPF30 100ml

Apivita Sun Kids SPF50 150ml

Apivita Sunbody After Sun 150ml

Apivita Sun Kids SPF30 No Filters 100ml

Uriage Bariesun Mat SPF50+ Fluide 50ml

Uriage Bariesun Mineral Cream Tinted Compact Clair

Uriage Bariesun Mineral Cream Tinted Compact Dore

Uriage Bariesun SPF50+ Milk Children Lotion 100ml

Uriage Bariesun SPF50+ Milk Lotion 100ml

Uriage Bariesun SPF50+ Mineral Cream 50ml

Uriage Bariesun SPF50+ Spary Enfant 200ml

Uriage Bariesun SPF50+ Spray 200ml

Uriage Bariesun Repair Balm After-Sun 150ml

Uriage Bariesun Creme SPF50 50ml

Uriage SPF50+ Creme No Perfume 50ml

Uriage Bariesun Anti-Brown Spot Fluid 40ml

Uriage Bariesun SPF50+Fluid Utra 30ml

Uriage Bariesun SPF50+Dry Mist 200ml

Uriage Bariesun Spf50+ Doree (gold) Cream 50ml

Uriage Spf50+ Claire (fair) Cream 50ml

Apivita Bee Sun Safe Hydra Spf30 Gel Cream 50ml

Apivita Bee Sun Safe Hydra Fresh Face SPF50 Moisturizing Sunscreen Thin Face Gel 50ml

Apivita Bee Sun Safe Hydra Fresh Tinted Face Cream SPF50 50ml

Apivita Bee Sun Safe Anti-spot & Anti-age Spf50 Defense Tinted Face Cream 50ml

Apivita Bee Sun Safe Hydra Melting Ultra Light Face & Body Spray SPF30 200ml

Apivita Bee Sun Safe Hydra Melting Ultra Light Face & Body Spray SPF50 200ml

Apivita Bee Sun Safe Hydra Fresh Face & Body Milk SPF50 200ml

Apivita Bee Sun Hydra Face & Body Milk SPF50 Travel Size 100ml

Apivita After Sun Face & Body Gel Cream 200ml

Apivita After Sun Face & Body Gel Cream 100ml

Apivita Bee Sun Safe Hydra Protection Hair Oil 100ml

Apivita Bee Sun Safe Tan Perfecting Body Oil SPF30 200ml

Apivita Bee Sun Safe Hydra Sun Kids Lotion Spray Spf50+ 200ml

Apivita Bee Sun Safe Baby Sun Cream SPF30 100ml

Apivita Bee Sun Safe Promo Moisturizing Sunscreen Lotion for Kids SPF50 200ml

Korres Yoghurt Sunscreen Spf50 Face & Eyes Cream Gel 40ML

Luxurius Dark Tanning Oil 200ml

Luxurius Tanning Spf6 Oil 200

Luxurius Cooling After Sun Gel 150ml

Luxurius Sc Hair Protection Spray 200ml

Luxurius Sc Spf30 Lip Balm 15ml

Luxurius Sunscreen Spf30 Serum 50ml

Luxurius Sc Invisible Spf30 Spray 200ml

Luxurius Sc Invisible Spf50+ Spray 200ml

Luxurius Spf50 Silk Cover Bb Cream 75ml

Luxiurius Suncare Bronze Spf50 75ml

Korres Cooling After Sun Gel Face & Body 150gr

Korres Aegean Bronge Natural Body & Face Self Tan Serum 150ml

Korres Red Grape Spf30 Tinted Mat Sunscreen 50ML

La Roche-posay Anthelios Uvmune 400 Spf50+ Cream 50ml

La Roche Posay Anthelios Oil Correction Sp50+ Gel-cream 50ml

La Roche Posay Anthelios Pigmentcorrect Tinted Cream 50ml

La Roche Posay Anthelios Uvmune 400 Fluid Invisible 50ml

La Roche Posay Anthelios Uvmune 400 Fluid Invisible Fragrance Free 50ml

La Roche-posay Anthelios Uvmune 400 Fragrance Free 50ml

La Roche Posay Anthelios Dry Touch Spf50+ cream 50ml

La Roche Posay Anthelios dry Touch Tinted Cream 50ml

Luxurious Suncare Stick Spf50+

Luxurious Anti Pollution Protective Face Cream Spf30 50ML

Luxurius Suncare Monoi Oil 200ml

Luxurious Sun Care Probiotics Fluid Spf 30 75ml

Luxurious Sun Care Anti-aging Eye Cream Spf30 15ml

Apivita Bee Sun Safe Anti-spot & Anti-age Spf50 Golden Tinted cream 50ml

Apivita Bee Sun Safe Dry Touch Invisible Face Fluid 50ml
Frezyderm Homeopathy Toothpaste 75ml

Frezyderm Homeopathy Mouthwash 250ml

Gum Orthodontic Wax Unfl. 723

Gum Bidir. Fine Pink 2614

Gum Floss Unwaxed 54.8M 1055

Gum Floss Waxed 54.8m 1155

Gum Floss Easy Flosser 890

Gum Toothbrush Technique Soffull 490

Gum Toothbrush Technique Sofcomp 491

Gum Toothbrush Technique Medful 492

Gum Toothbrush Technique Medcomp 493

Gum Toothbrush Classic Soft Full 411

Gum Toothbrush Classic Soft Comp 409

Gum Toothbrush Sensivital Ultra Soft 509

Gum Toothbrush Specialty Endtuft 308

Gum Toothbrush Orthodontic Soft 124

Gum Toothbrush Delicate Sup.Soft 317

Gum Floss Expanding 30m 2030

Gum Floss Orig.White 30m 2040

Gum Floss Eez-Thru 30m 2000

Gum Toothpaste Sensivital 75ml

Gum Paroex 0.06% Special Offer ( M/W+T/P+T/Br)

Gum Mouthwash Paroex (Red) 0.12 300ml E

Gum Gel Paroex Chx 0.12 75ml

Gum Orthodontic Kit 124Kit

Gum Mouthwash Orig.White 300ml

Gum Mouthwah Sensivital 300ml

Gum Toothpaste Orthodontic 75ml

Gum Moutwash Orthodontic 300ml

Gum Original White Offer Pack (M/W+T/P+T/Br)

Gum Sensivital Offer Pack (M/W+T/P+T/Br)

Gum Bidir.Microfine Blue 2314

Gum Bidir.U/Micfine White 2114

Gum Toothbrush Activital Compact 583

Gum Toothbrush Activital Compact 581

Gum Implant and Floss 2090

Gum Mouthwash Paroex (Blue) 0.06 500ml

Gum Toothpaste Paroex Chx 0.06 75ml

Gum Mouthwash Paroex Chx 0.20% 300ml

Gum Paroex0.06% 2T/P&2T/Br Offer

Gum Sensivital 2T/P&1T/Br Offer

Gum Offer Activital (M/W+T/P+T/Br)

Gum Activital Family Offer

Gum Toothbrush Baby Monster 0-2Y 213

Gum Toothbrush Kids Monster 3-6Y 901

Gum Toothbrush Junior Monst 7-9Y 902

Gum Toothbrush Teens 10+Years 904

Gum Toothbrush Light Up Mons 7-9 903

Gum Toothpaste Kids Mons 2-6 50ml

Gum Toothpaste Junior Mons 7+50ml

Gum Kids 2-6 Offer 1T/P&1T/Br

Gum Toothbrush Techn Pro Medium Regular 526

Gum Toothbrush Techn Pro Soft Compact 525

Gum Trav-Ler Mix Pack 1699

Gum Soft Picks (40) 634 Large

Gum Prox.Trav-Ler 0.6 Pur 1312

Gum Toothbrush Techniq Pro Medcom528

Gum Sensivital+White Offer

Gum Aftaclear Rinse 120ml

Gum Toothbrush Original White Medium Compact 563

Gum Soft Picks(30)Advanced 650

Gum Mouthwash Activital 300ml

Gum Toothbrush Activital Sonic Battery

Gum Toothbrush Activital Sonic Refil

Gum Soft Picks Advance(30) Small 649

Gum Mouthwash Junior 6+300ml

Gum Ortho Offer 1T/P+1M/W+T/Br

Gum Toothpaste Activital 75ml+T/B Free

Gum Offer Junior T/P+M/W+T/Br

Gum Soft Picks Adv. Large 651

Gum Toothbrush Powercare Refills

Gum Toothpaste Origin.White+T/Br Free

Unisept Buccal Drops 30ml

Chlorhexil Gingival Gel 30ml

Chlorhexil Mouthwash 0.05%+Fluoride 250ml

Chlorhexil Mouthwash 0.12% 250ml

Chlorhexil Mouthwash 0.20% 250ml

Chlorhexil Toothpaste Fluoride 0.1% 100ml

Elgydium Anti-plaque Toothpaste 75ml

Elgydium Eludril Classic Mouthwash 200ml

Elgydium Eludril Classic Mouthwash 500ml

Elgydium Sensitive Toothpaste 75ml

Elgydium Decay Protection Caries Toothpaste 75ml

Elgydium Lemon Bicarbonate (whitening) Toothpaste 75ml

Elgydium Bicarbonate (whitening) Toothpaste 75ml

Elgydium Brilliance & Care Anti-Stain Toothpaste 30ml

Eludril Intense Mouthwash 500ml

Eludril Sensitive Daily Mouthwash 500ml

Elgydium Multi Action Toothpaste gel 75ml
Eubos Sensitive Lotion Dermo Protective 200ml

Eubos Urea 10% Hydro Repair Lotion 150ml

Eubos Urea 10% Foot Cream 100ml

Eubos Urea 10% Body Lotion 200ml

Health Aid Aloe Vera Cream 75ml

Health Aid Calendula Cream 75ml

Health Aid Arnica Cream 75ml

Health Aid Osteoflex Cream 100ml

Diocare Burnall Cream 75ml

Diocare Soapless Soap 500ml Chamomile

Anaplasis Clt+ Kyttaritida Oil 100ml

Anaplasis Elaio Prolipsis Ragadwn 100ml

Luxurius Body Cream Vanilla Madagascar 300ml

Luxurius Body Cream Pink Orchid 300ml

Luxurius Body Cream Ginseng- Ylang 300ml

Luxurius Body Cream Milk Chocolate 300ml

Luxurius Body Cream Icing Sugar 300ml

Luxurius Body Wash 2 In 1 Vanilla Madagascar 300ml

Luxurius Body Wash 2 In 1 Icing Sugar 300ml

Luxurius Body Wash 2 In 1 Pink Orchid 300ml

Luxurius Body Wash 2 In 1 Ginseng-Ylang 300ml

Luxurius Body Wash 2 In 1 Milk Chocolate 300ml

Luxurius Body Scrub Vanilla Madagascar 300ml

Luxurius Body Scrub Icing Sugar 300ml

Luxurius Body Scrub Pink Orchid 300ml

Luxurius Body Scrub Ginseng-Ylang 300ml

Luxurius Body Scrub Milk Chocolate 300ml

Victoria's Secret Rush Fragrance Lotion 236ml

Victoria's Secret Bare Vanilla Fragrance Lotion 236ml

Victoria's Secret Coconut Passion Fragrance Lotion 236ml

Victoria's Secret Pure Seduction Fragrance Lotion 236ml

Victoria's Secret Velvet Petals Fragrance Lotion 236ml

Victoria's Secret Romantic Fragrance Mist 250ml

Victoria's Secret Romantic Fragrance Mist 250ml

Victoria's Secret Love Spell Fragrance Mist 250ml

Victoria's Secret Pure Seduction Fragrance Mist 250ml

Victoria's Secret Love Addict Fragrance Mist 250ml

Victoria's Secret Autumn Blossom Fragrant body Lotion 236ml

Victoria's Secret Toasted Honey Fragrant body Lotion 236ml

Victoria's Secret Vanilla Dusk Fragrant body Lotion 236ml

Victoria's Secret Toasted Honey Fragrance Mist 250ml

Anaplasis Slimming&anticellulite Self Tanning Body Milk 150

Victoria's Secret Romantic Fragrance Lotion 236ml

Victoria's Secret Love Addict Fragrance Lotion 236ml

Victoria's Secret Coconut Passion Fragrance Mist 236ml

Victoria's Secret Love Spell Fragrance Lotion 236ml

Korres Renewing Body Cleanser Mastic Shower Gel 250ml

Korres Renewing Body Cleanser Lilac Shower Gel 250ml

Korres Body Smoothing Mastic Body Milk 200ml

Korres Body Smoothing Milk Lilac 200ml

Korres Algae Exfoliating Body soap 125gr

Anaplasis Seaweed (green Tea Spirulina Hippocastanum Mud 400gr

Korres Guava Mango Body Butter Spray 250ml

Skin Pharmacist Hydra Boost Body Care Cream 200ml

Skin Pharmacist SOS After Bites 10ml

Skin Pharmacist Sos Irritation Cream 100g

Skin Pharmacist SOS After Burn Cream 75ml

Cerave Moisturising Balm With Pump 454g

Cerave Moisturising Cream 177ml

Cerave Moisturising Cream 340ml Dry / Very Dry Skin

Cerave Moisturising Cream 454g

Cerave Moisturising Balm 50ml

Cerave Moisturizing Lotion Face & Body 236ml

Cerave Moisturising Lotion 473ml

Cerave Renewing S A Foot cream 88ml

Cerave Reparative Hand Cream 100ml

Cerave Reparative Hand Cream 50ml

Cerave Sa Smoothing Cleanser 236ml

Cerave Sa Smoothing Cream 177ml

Cerave Smoothing Cream 340g

Apivita Bee My Honey Moisturizing Body Milk With Honey&Aloe 200ml

Apivita Bee My Honey Moisturizing With Honey&Aloe Shower Gel 250ml
Michael Kors Sexy Ruby Eau de parfum Spray 50ml

Givenchy L'interdit Eau de parfum Spray 80ml

Trussardi Eau de parfum Spray 60ml

Trussardi Eau de parfum Spray 90ml

Trussardi 1911 Donna Eau de parfum Spray 30ml

Trussardi Sound Of Donna Eau de parfum Spray 30ml

Trussardi Sound Of Donna Eau de parfum Spray 50ml

Kenzo Fbk Flower Eau De Vie Eau De Parfum Spray 30ml

Kenzo Fbk Flower Eau De Vie Eau De Parfum Spray 50ml

Kenzo World Intense Eau De Parfum Intense Spray 30ml

Kenzo World Intense Eau De Parfum Instense Spray 50ml

Dsquared2 Wood Pour Femme Eau De Toilette Spray 30ml

Dsquared2 Wood Pour Femme Eau De Toilette Spray 50ml
Trussardi Uomo The Red Eau de parfum Spray 50ml

Trussardi Black Extreme Pour Homme Eau de Parfum Spray 30ml

Trussardi Black Extreme Pour Homme Eau de Parfum Spray 50ml

Trusardi 1911 Uomo Eau de parfum Spray 100ml

Trussardi Riflesso Blue Vibe Eau De Toilette Spray 30ml

Dsquared 2 Green Wood Pour Homme Eau De Toilette Spray 50ml

Trussardi Riflesso Blue Vibe Eau De Toilette Spray 50ml

Trussardi Riflesso Eau De Toilette Spray 30ml

Trussardi A Way For Him Eau De Toilette Spray 50ml

Dsquared 2 Green Wood Pour Homme Eau De Toilette Spray 30ml

Mont Blanc Explorer For Men Edp 100ml

Mont Blanc Explorer For Men Edp 60ml

Mont Blanc Explorer For Men Edp 30ml
Eubos Hand Repair Cream 75ml

Uriage Depiderm Hand Creme SPF15 50ml
Ducray Kelual Ds Cream 40ml

Health Aid Vit E Oil 50ml

Health Aid Argan Glow Face&body 60ml

Korres Wild Rose Cleansing Foam Cream 200ml

Korres Wild Rose Exfoliating Cleaner 150ml

Korres Olympic Tea Cleansing Foam Cream 400ml

Korres Olympic Tea Cleansing Emulsion 3in1 400ml

Korres Olympic Tea Cleansing Emulsion 3in1 200ml

Korres Olympic Tea Cleansing Foam Cream 200ml

Korres Pomegranate Tonic Lotion

Korres Jasmine Eye M-up Remover

Korres White Tea Cleans. Gel

Korres Olympus Tea Deep Detox Cleansing Cloths

Korres Cleansing Wipes Pomegranate

Korres Wild Rose Day Normal-combination 40ml

Korres Wild Rose Day Dry 40ml

Korres Wild Rose Face Oil 30ml

Korres Wild Rose Sleeping Facial 40ml

Korres Wild Rose Dual Phase Oil 30ml

Korres Wild Rose Day Cream Οily 30ml

Korres Wild Rose Day Cream Dry 60ml

Korres Black Pine Day Cream Normal-Combination 40ml

Korres Black Pine Day Cream Dry-Very Dry 40ml

Korres Black Pine Night Cream 40ml

Korres Black Pine Serum 30ml

Korres Black Pine Eye Serum 15ml

Korres Black Pine Eye Cream 15ml

Korres White Pine Day Cream 40ml

Korres White Pine Night Cream 40ml

Korres White Pine Concentrate 30ml

Korres Castaneα Arcadia Day Cream Normal-Combin

Korres Castaneα Arcadia Night Cream

Korres Castaneα Arcadia Foam Cream150ml

Apivita Aqua Beelicious Booster Serum 30ml

Apivita Aqua Beelicious Eye Cream 15ml

Apivita Aqua Beelicious Oil Free Gel-Cream 40ml

Apivita Aqua Beelicious Ui Comfort Cream 40ml

Apivita Wine Elixir SPF30+ Day Cream 40ml

Apivita Wine Elixir Rich Day Cream 50ml

Apivita Wine Elixir Light Day Cream 50ml

Apivita Wine Elixir Serum 30ml

Apivita Wine Elixir Night Cream 50ml

Apivita Wine Elixir Eye & Lip Cream 15ml

Apivita Wine Elixir Face Oil 30ml

Apivita Face & Eye Foam Olive Lavender 300ml

Apivita New Black Detox Cleanser 150ml

Apivita New Micellar Water 300ml

Apivita New 2 In 1 Facial Lotion 200ml

Apivita Cleansing Gel Oily Combination 200ml

Apivita Moisturizing Hyaluronic Acid&Aloe Hair Mask 200ml

Fillerina Filler Grade 1 Treatment

Fillerina Filler Grade 2 Treatment

Fillerina Filler Grade 3 Treatment

Fillerina Plus Filler Grade 4 Treatment

Fillerina Plus Filler Grade 5 Treatment

Fillerina Day Grade 1 face cream 50ml

Fillerina Day Grade 2 face cream 50ml

Fillerina Day Grade 3 face cream 50ml

Fillerina Day Grade 4 face cream 50ml

Fillerina Day Grade 5 face cream 50ml

Fillerina Night Grade 1 face cream 50ml

Fillerina Night Grade 2 face cream 50ml

Fillerina Night Grade 3 face cream 50ml

Fillerina Plus Night Grade 4 face cream 50ml

Fillerina Plus Night Grade 5 face cream 50ml

Fillerina Eye &lip Contour Grade 1 Cream 15ml

Fillerina Eye &lip Contour Grade 2 Cream 15ml

Fillerina Eye &lip Contour Grade 3 Cream 15ml

Fillerina Eye &lip Contour Grade 4 Cream 15ml

Fillerina Eye &lip Contour Grade 5 Cream 15ml

Fillerina Lip Volume Dosage 2 Cream 5ml

Fillerina Lip Volume Dosage 3 Cream 5ml

Fillerina Neck&cleavage Grade 4 Treatment

Fillerina Neck&cleavage Maintenance Grade 4

Fillerina Eyes&eyelids Grade 5 Cream 15ml

Fillerina Lips&mouth Grade 4 Dispensing Brush 5ml

Fillerina Lips&mouth Grade 5 Dispensing Brush 5ml

Apivita Beesential Day Oil 15ml

Apivita Beesential Night Balm 15ml

Eva Belle Face Serum 50ml

Eva Belle Day Spf15 Face Cream

Eva Belle Anti-spot Spf15 Face Cream

Eva Belle Peptide&hyaluronic Acid 5 Ampoules

Eva Belle Proteglycans&vitamin C 5 Ampoules

Eva Belle Dmae&acetyl Hexapeptide8 Instant Lifting 5 Ampoules

Korres Black Pine Up-lift Contouring Serum 40ml

Apivita Face Mask Pumpkin 50ml

Apivita Face Mask Prickly Pear 50ml

Skin Pharmacist Αge Active Vitamin C Serum 30ml

Skin Pharmacist City Detox Anti-Pollution All Day Protection Cream SPF30 50ml

Skin Pharmacist Hydra Boost Probiotics Cream 50ml

Skin Pharmacist Hydra Boost Pore-Minimizing Cream 40ml

Skin Pharmacist Sensitive Skin Anti-Redness Cream 50ml

Skin Pharmacist Sensitive Skin B12 Cream 50ml

Skin Pharmacist Sensitive Skin Vitamin B12 Serum 30ml

Skin Pharmacist Sensitive Skin Vitamin Β12 Tonic Water 200ml

Skin Pharmacist Hydra Boost Recovery Eye-Mask 10pcs

Skin Pharmacist Sos Spot Corrector 15ml

Skin Pharmacist Αge Active Anti-Dark Spots SPF15 Cream 50ml

Skin Pharmacist City Detox Radiance Booster 15ml

Skin Pharmacist Restore & Renew Eyelash Booster 3ml

Apivita Queen Bee Absolute Anti- Aging Rich Cream 50ml

Apivita Queen Bee Absolute Anti- Aging Night Cream 50ml

Apivita Queen Bee Absolute Anti- Aging Eye Cream 15ml

Apivita Queen Bee Absolute Anti- Aging Light Cream 50ml

Apivita Queen Bee Absolute Anti- Aging Light Cream 50ml

Korres Black Pine 4d Bounce Firming Moisture-tinted spf20 Cream 40ml

Korres Black Pine Eye Rescue Balm 15ml

Cerave Hydrating Cream To Foam Cleanser 236ml

Cerave Eye Repair Cream 14ml

Cerave Facial Moisturising Cream 52ml

Cerave Facial Moisturising Lotion Spf25 For Normal 52ml

Cerave Foaming Cleanser For Normal To Oily Skin 236ml

Cerave Hydrating Cleanser For Normal To Dry Skin 236ml

Cerave Hydrating Micellar Water 295ml

Cerave Moisturising Balm With Pump 454g

Cerave Facial Foaming Cleanser 473ml

Uriage Cleansing Face Oil 100ml

Uriage Eau Thermale Water Jelly 40ML

Cerave Hydrating Foaming Cleansing Oil 236ml

Cerave Hydrating Foaming Cleansing Oil 473ml

Korres White Pine Restorative Overnight Facial cream 40ml
Korres Macademia Moisturizing Mask.18ml

Korres Black Tea Lifting Eye Mask 6ml

Korres Bilberry Exfoliating Aha Mask 18ml

Korres Damaskus Rose Night Mask 18ml

Korres G.Berry Mask Συσφ.&Lift. 18ml

Korres Babassu Moist.&Nour Mask 18ml

Korres Watermelon Revital.Mask 18ml

Korres Olive Deep Exfoliating Scrub 18ml

Korres Green Clay Cleansing Mask.18ml

Korres Natural Clay Cleansing Mask 18ml

Korres Kiwi Mild Cleansing Scrub 18ml

Korres Grapefruit Brighte.Mask 18ml

Korres Cucumber Eye Mask 8ml

Apivita Face Scrub Apricot 50ml

Apivita Face Mask Sea Lavener 50ml

Apivita Face Scrub Olive 50ml

Apivita Face Mask Aloe 50ml

Apivita Face Mask Pomegranate 50ml

Apivita Face Mask Grape 50ml

Apivita Face Mask Royal Jelly 50ml

Apivita Face Scrub Bilberry 50ml

Apivita Face Mask Propolis 50ml

Apivita Express Detox Pumpkin 2x8ml

Apivita Express Deep Cleansing with Green Clay 2x8ml

Apivita Express Oily Skin with Propolis 2x8ml

Apivita Express Exfoliating with Olive 2x8ml

Apivita Express Exfoliating with Apricot 2x8ml

Apivita Express Moisturizing with Cucumber 2x8ml

Apivita Express Moisturizing with Aloe 2x8ml

Apivita Express Moisturizing with Prickly Pear 2x8ml

Apivita Express Moisturizing with Honey 2x8ml

Apivita Express Radiance with Orange 2x8ml

Apivita Express with Pomegranate 2x8ml

Apivita Express with Grape Anti-Wrinkle 2x8ml

Apivita Express Gingo Biloba For Eyes 2x2ml

Apivita Express Eye Anti-Wrinkle Grape 2x2ml

Apivita Express Royal Jelly 2x8ml

Apivita Express Moisturizing Sea Lavender 2x8ml

Apivita Express Bilberry Mask 2x8ml

Apivita Express Sheet Mask Avocado

Apivita Express Sheet Mask Carob

Fillerina Plump Mask Grade 3 Plus

Fillerina Plump Mask Grade 4 Plus

Fillerina Bio Plump Grade 4-bio

Fillerina Bio Plump Mask Grade 5-bio
Aseptin Hands Clear Gel 80ml
Frezyderm Femine Nipple Care Cream 40ml

Frezyderm Femine Preventstria Cream 150ml

Frezyderm Femine Reconstria Cream 75ml

Linea Mamma Anti Dark Spot Face Cream

Linea Mamma Anti Fatigue Spray 125ml

Linea Mamma Anti-Stretch Mark Cream 150ml

Linea Mamma Intimate Cleanser 200ml

Linea Mamma Post Partum Cream 150ml

Linea Mamma Soothing Regenerating Breast Cream 30ml

Linea Mamma Sweet Almond and Argan Oil

Medela Breastmilk Bottles 3

Medela Disposable Breast Pads 30

Medela Disposable Breast Pads 60

Medela Mini Electric Breast Pump

Medela Nipple Shields Medium

Medela Nipple Shields Small

Medela Swing Electric Breast Pump

Mustela 9 Months Stretch Mark Prevention Cream 150ml

Mustela 9 Months Support Bust Firming Serum 75ml

Mustela Body Firming Gel 200ml

Mustela Nursing Comfort Balm Bio 30ml

Vitabiotics Pregnacare 30 Caps

Vitabiotics Pregnacare Plus Omega-3

Vitabiotics Pregnacare Breastfeed 56Ta+28C

Vitabiotics Pregnacare Liquid 200ml

Vitabiotics Pregnacare New Mum After Pregnancy 56Tablets

Vital Mama Care 30 Lipidcaps
Frezyderm Femine Intimate Aid Cleanser Ph5.0 200ml

Frezyderm Femine Intimate Area Liquid Ph 4.0 200ml

Frezyderm Femine Intimate Chamomile Douche Ph 4.5 150ml

Frezyderm Femine Intimate Soda Douche Ph9 150ml

Diocare Feminine Liquid Soap 200ml

Eubos Feminine, Liquid, 200ml

Eva Belle Vaginal Cream 10x5g

Eva Intima Wash Extrasept

Eva Mycosis Foaming Wash 50ml

Eva Restore Vaginal Ovules x10

Eva Menofix (Period Patch)

Eva Biolact Vaginal Ovules x10

Eva Douche Chamomile 147ml

Eva Douche Post Menstrual 147ml

Eva Intima Wash Herbosept

Eva Intima Wash Original 250ml

Eva Lactic Vaginal Supp 10x2g

Eva Moist Long Actin 2.5g 9Tub

Eva Intima Cransept 250ml

Health Aid Femmevit 60Tabs

Health Aid Isoflavone Complex 910mg 60s

Vitabiotics Wellwoman Vitabiotics Original

Vitabiotics Perfectil Platinum 60Tabs

Vitabiotics Wellwoman 50+ 30 Tabs

Vitabiotics Wellwoman Sport and Fit 30Tab

Lamberts Extra High Potency Evening Primrose Oil 90Caps

Lamberts Pure Evening Primrose Oil 1000Mg 90Caps

Lamberts Pure Fish Oil 1100mg 60Capsules

Lamberts Glucosamine & Chondroitin Complex 60 Tablets

Lamberts Turmeric Fast Release 60 Tablets

Lamberts Co Enzyme Q 10 100mg 30 Tablets

Lamberts Premtesse® 60Tablets

Eva Intima Wash Hydrasept ph3.5(Diabetel) 250ml
Korres Absinthe Shave Cream 125ml

Korres Blue Sage Aftershave 125ml

Korres Aftershave Mountain Tea 125ml

Korres Vetiver After Shave

Korres Antiageing Cream Maple 50ml

Korres Borage Mens Moisturing Cream 50ml

Korres Gings&Marigold After Shave 200ml

Korres Magnesium and Wheat Tonic Shampoo 250ml

Korres Saffron Tobacco Aftershave 125ml

Korres Saffron Spices Aftershave 125ml

Vitabiotics Wellman Vitabiotics 30 Caps

Vitabiotics Wellman 50+ 30 Tabs

Vitabiotics Wellman Prostate 60 Tabs

Vitabiotics Wellman Moisturizing Creamm 50ml

Apivita Men Care Gentle Shaving Cream 100ml

Apivita Men Care After Shave Balm 100ml

Apivita Men Care Moisturizing Cream-Gel 50ml

Apivita Men Care Anti-Wrinkle Anti-Fatigue Face and Eye Cream

Apivita Men Care Hair and Body Wash 250ml
Health Aid Prostavital 30 Caps
Eubos Diabetic Foot and Leg Multi Active 100

Health Aid Glucobate 60 Tabs
Uriage Depiderm Anti-Brown Fluid SPF15 30ml

Uriage Depiderm SPF50+ Daytime Care 30ml

Uriage Anti Brown Spot Targeted Care 15ml

Uriage Depiderm Anti-Brown Spot Night Cream 40ml

Uriage Depiderm Serum Correcteur 30ml

Uriage Depiderm Cleansing Foam 100ml

Uriage Depiderm Eye Contour Care 15ml

Uriage Depiderm Anti-Brown Spot Night Cream 40ml

Uriage Depiderm Cleansing Foam 100ml

Uriage Depiderm Eye Contour Care 15ml
Frezylac Wholegain Milk-Apple Vanilla 200g

Frezylac Rice-Flour with Milk and Vanilla 200g

Frezylac Farine Lactee Cereal and Milk 200g
Frezylac Platinum No.1 400g

Frezylac Platinum No.2 400g

Frezylac Platinum No.3 400g

Humana Ac Anticolic (Comfort) 350g

Nactalia 1Gold (0-6 Months) 400g

Nactalia 2 Gold(6-12 Months) 400g

Nactalia 3 GOLD (Over 12 Months) 400g

Novalac Allernova 400g 0-36Months

Novalac Ar Digest( 0-12Months )400g

Nounou Frisolac Comfort No1 400g

Nounou Frisolac Premature 400g

Nestle Nan Expert Pro Ha 400g

Nestle Nan Sensitive 400g

Nestle Pre-Nan For Premature 400g

Nestle Nutren Junior Prebio 400g
Cheeky Panda Bamboo Wipes 64

Cheeky Panda Bamboo Handy Wipes 12
Kin Baby Teething Gel 30ml

Babyderm Girls Intimate Wash 300ml

Baby Nadif Nasal Aspirator

Alphanova Dermocleansing Gel 500ml

Alphanova Dermocleansing Gel 200ml

Alphanova Bebe Moisturizing Milk 250ml

Alphanova Nappy Rash Cream

Babyderm Sunscreen Spf50 Spray Lotion 200ml

Difrax Standard S-bottle 250ml

Difrax S Bottle Wide 200ml

Difrax Natural Newborn Soother

Difrax Natural Soother 0 To 6 Months

Difrax Natural Soother 0 To 6 Months Love Mama

Difrax Reversible Natural Soother For +6 Months

Difrax Reversible Natural Soother For 12-18 Months

Difrax Reversible Natural Soother For 18+months

Difrax Soother Natural Glow In The Dark 0 To 6 Months

Difrax Natural Soother Glow In The Dark 6 Months +

Difrax Pacifier Cord Plush

Difrax Soother Cord Red I Love

Difrax Sterilising Egg Transparent

Difrax Non-spill Sippy Cup Hard Spout 250ml

Difrax Non Spill Sippy Cup Soft Spout 250ml

Difrax Natural 3m+ Medium Teat

Difrax Natural 6m+ Large Teat

Difrax Wide 1m+ Medium 2Teats

Diffrax Microwave Steriliser

Difrax Bottle Wide Large Teat

Korres Feeding Bottle 150ml 0+

Korres Feeding Bottle 230ml 0+

Korres Feeding Bottle 230ml 3+

Korres Feeding Bottle 300ml 3+

Korres Baby Set On The Go

Korres Baby's Cozy World Set

Korres Set Welcome Baby The Essentials Kit

Korres Baby Showergel & Shampoo 500ml

Korres Baby Silicon Teats Slow Flow 0m+ 2pcs

Korres Baby Silicon Teats Medium Flow 3m+ 2pcs

Mustela Cleansing Water 500ml
Childs Farm Shampoo Strawberry and Organic Mint 250ml

Childs Farm Shampoo Strawberry and Organic Mint 500ml

Childs Farm 3in1 Swim Strawberry and Organic Mint 250ml

Childs Farm Hair&Body Wash Sweet Orange 500ml

Childs Farm Hair&Body Wash Blackberry and Organic Apple 250ml

Childs Farm Hair&Body Wash Sweet Orange 250ml

Childs Farm Hair&Body Wash Blackberry and Organic Apple 500ml

Childs Farm Buble Bath Organic Rasberry 500ml

Childs Farm Buble Bath Organic Rasberry 250ml

Childs Farm Buble Bath Blueberry and Organic Mango 250ml

Childs Farm Conditioner Strawberry and Organic Mint 250ml

Childs Farm Conditioner Strawberry and Organic Mint 500ml

Childs Farm Hair Detangler Spray 150ml

Childs Farm Baby Oil Organic Coconut 150ml

Childs Farm Moisturizing Lotion 250ml

Frezyderm Anticort Cream 50ml

Frezyderm Atoprel Baby Laundry Liquid 1L

Frezyderm Atoprel Emolient Cream 150ml

Frezyderm Atoprel Foamy Shampoo 150ml

Frezyderm Atoprel Milky Bath Oil

Frezyderm Baby Abcc Oil 50ml

Frezyderm Baby Bath 200ml

Frezyderm Baby Chamomile Bath 200ml

Frezyderm Baby First Aid Butter 50ml

Frezyderm Baby Foam 150ml

Frezyderm Baby Liquid Talk

Frezyderm Baby Shampoo 300ml

Frezyderm First Aid Butter 50g

Leti At4 Facial Cream 50ml

Leti At4 Facial SPF20 Cream 50ml

Leti At4 Repair Balm Tube 10ml

Leti At4 Repair Balm Jar 10ml

Linea Bimbi Baby Lip Balm

Linea Bimbi Fluid Cleansing Cream 200ml

Linea Bimbi Intimate Cleanser 125ml

Linea Bimbi Liquid Soap 300ml

Linea Bimbi Natural Cleansing Bio Wet Wipes

Linea Bimbi Pan D'Avena Soap Bar 100g

Linea Bimbi Rice Starch Powder 75g

Linea Bimbi Red Relief Paste 50ml

Linea Bimbi Silky Liquid Talk 100ml

Linea Bimbi Softening Bath Oil 200ml

Linea Bimbi Softening Conditioner 50ml

Linea Bimbi Soothing And Protective Cream 100ml

Linea Bimbi Total Shampoo 3in1 250ml

Linea Bimbi Total Shampoo 3in1 500ml

Mustela2 In 1 Hair&Body Gel 200ml

Mustela Baby Shampoo 200ml

Mustela Baby Shampoo 500ml

Mustela Cicastela Cream 40ml

Mustela Dermo-Cleansing Gel 500ml

Mustela Foam Shampoo 150ml

Mustela Hydra Bebe Lotion 300ml

Mustela Hydra Bebe Facial Cream 40ml

Mustela Massage Baby Oil 100ml

Mustela Multi Sensory Bubble Bath 750ml

Mustela Physiobebe (Cleansing Water) 500ml

Mustela Soothing Cleansing Gel 300ml

Mustela Soothing Cleansing Wipes 70

Mustela Soothing Moisturizing Balm 200ml

Mustela Soothing Moisturizing Cream 40ml

Mustela Soothing Moisturizing Lotion 200ml

Mustela Stelatopia Cleansing Gel 200ml

Mustela Stelatopia Emolient Face Cream 40ml

Mustela Stelatopia Emolient Cream 200ml

Mustela Vitamin Barrier Cream 1,2,3 50ml

Mustela Vitamin Barrier Cream 1,2,3 100ml

Uriage Bebe 1St Change Cream 100ml

Uriage Bebe 1St Cleansing Cream 200ml

Uriage Bebe 1St Nasal Spray

Uriage Bebe 1St Water Cleansing Wipes 70

Uriage Bebe 1St Shampoo 200ml

Uriage Bebe 1St Moisturizing Milk 200ml

Uriage Bebe 1St Mosturizing Cream 40ml

Apivita Kids Shampoo Chamomile and Honey 250ml

Apivita Kids Shampoo and Conditioner

Apivita Kids Conditioner Rose and Honey 150ml

Eubos Ointment 75ml Panthenol
Diocare Anti Lice Shampoo 2 In 1

Pharmasept X-Lice Cologne Spray 100ml

Leeloop Lice Preventing Hair Band 4
Ducray Kelual Ds Shampoo 100ml

Ducray Anaphase for Hairlos Shampoo 150ml

Ducray Argeal Cream Shampoo 150ml

Ducray Elution Shampoo 300ml

Ducray Kelual Pso Shampoo 200ml

Ducray Kelual Zinc Squanorm Lotion 200ml

Ducray Sabal Shampoo 200ml

Ducray Squanorm Dry Dandruff Shampoo

Ducray Squanorm Oily Dandruff Shampoo
Eubos Antidadruff Shampoo 150ml

Health Aid Hair-Vit Caps 30s

Health Aid Hair-Vit Caps 90s

Health Aid Tea Tree Shampoo 250ml

Health Aid Hair Skin Nail 30Tabs

Health Aid Argan Glow For Hair 125ml

Korres Shampoo Almomd and Lineseed

Korres Shampoo Sunflower and Tea

Korres Shampoo Netlle and Licorice

Korres Shampoo Rice Proteins and Tile

Korres Conditioner Sunflower and Tea 200ml

Korres Conditioner Almond and Linesed 200ml

Korres Conditioner Aloe and Ditanny 200ml

Korres Sunflower and Tea Mask 125ml

Korres Mask Almond and Lineseed 125ml

Vitabiotics Perfectil 30 Tabs

Vitabiotics Perfectil Plus Hair

Vitabiotics Hair Folic Tricologic Man 60 Tablets

Vitabiotics Perfectil Plus Nails 60S

Diocare Extravit Hair Nails and Skin 30S

Apivita Mask Shine Revital.Hair 20ml

Apivita Mask Moisturizing Hair 20ml

Apivita Mask Tonic Hair 20ml

Apivita Shampoo Tonic Men Hippophaes and Rosemary 500ml

Apivita Shampoo Tonic Men Hippophaes and Rosemary 250ml

Apivita Shampoo Tonic Women Hippophaes and Laurel 500ml

Apivita Shampoo Tonic Women Hippophaes and Laurel 250ml

Apivita Shampoo Dry Scalp Celery and Propolis 250ml

Apivita Shampoo Sensitive Scalp Lavender and Honey 250ml

Apivita Shampoo Oily Dandruff Salix and Propolis 250ml

Apivita Shampoo Nourish Repair Olive and Honey 250ml

Apivita Shampoo Oil Balance Mint and Propolis 250ml

Apivita Shampoo Color Protection Sunflower and Honey 250ml

Apivita Shampoo Oily Roots Dry Ends 250ml

Apivita Shampoo Shampoo Daily Chamomile and Honey 250ml

Apivita Shampoo Shine Revitalizing Orange and Honey 250ml

Apivita Shampoo Moisturizing Hyaluronic Acid and Aloe 250ml

Apivita Rescue Argan and Olive Oil 100ml

Apivita Conditioner Nourish and Repair 150ml

Apivita Conditioner Color Protection 150ml

Apivita Conditioner Shine and Revitalizing 150ml

Apivita Conditioner Gentle Daily 150ml

Apivita Conditioner Moisturizing Hyaluronic All Types 150ml

Apivita Conditioner Color Leave In 150ml

Apivita Conditioner Thinning Hair 150ml

Apivita Conditioner Oily Root Dry Ends 150ml

Apivita Mask Nourish and Repair Hair 200ml

Apivita Mask Colored Hair 200ml

Anaplasis Rpnzl Hair Oil 200ml

Lamberts Florisene® 90Tablets

Lamberts Biotin 500mg 90 Caps

Crescina Cadu-crex Initial Men Shampoo 150ml

intial hair loss shampoo

Crescina Cadu-crex Advance Man Shampoo 150ml

advanced hair loss hampoo

Crescina Cadu-crex Intensive Man Shampoo 150ml

intensive hair loss shampoo

Crescina Cadu-crex Initial Woman Shampoo 150ml

intial hair loss shampoo

Crescina Cadu-crex Advance Woman Shampoo 150ml

advanced hair loss hampoo

Crescina Cadu-crex Intensive Woman Shampoo 150ml

intensive hair loss shampoo

Crescina Hfsc 200 Man 10 ampoules

hair growth treatment ampoules

Crescina Hfsc 200 Man 20 ampoules

hair growth treatment ampoules

Crescina Hfsc 200 Woman 10 Ampoules

hair growth treatment ampoules

Crescina Hfsc 200 Woman 20 Ampoules

hair growth treatment ampoules

Crescina Hfsc 500 Man 10 Ampoules

hair growth treatment ampoules

Crescina Hfsc 500 Man 20 Ampoules

hair growth treatment ampoules

Crescina Hfsc 500 Women 10 Ampoules

hair growth treatment ampoules

Crescina Hfsc 500 Women 20 Ampoules

hair growth treatment ampoules

Crescina Hfsc 1300 Man 10 Ampoules

hair growth treatment ampoules

Crescina Hfsc 1300 Man 20 Ampoules

hair growth treatment ampoules

Crescina Hfsc 1300 Woman 10 Ampoules

hair growth treatment ampoules

Crescina Hfsc 1300 Woman 20 Ampoules

hair growth treatment ampoules

Crescina Hsfc 200 Complete Man 10+10 Ampoules

hair growth treatment ampoules

Crescina Hfsc 500 Complete Man 10+10 Ampoules

hair growth treatment ampoules

Crescina Hfsc 1300 Complete Man 10+10 Ampoules

hair growth treatment ampoules

Crescina Hfsc 200 Complete Woman 10+10 Ampoules

hair growth treatment ampoules

Crescina Hfsc 500 Complete Woman 10+10 Ampoules

hair growth treatment ampoules

Crescina Hfsc 1300 Complete Woman 10+10 Ampoules

hair growth treatment ampoules

Crescina Follicular 1700 Complete Man 10+10 Ampoules

hair growth treatment ampoules

Crescina Follicular 1700 Man 10 Ampoules

hair growth treatment ampoules

Crescina Follicular 1700 Man 20 Ampoules

hair growth treatment ampoules

Crescina Follicular 1700 Complete Woman 10+10 Ampoules

hair growth treatment ampoules

Crescina Follicular 1700 Woman 10 Ampoules

hair growth treatment ampoules

Crescina Follicular 1700 Woman 20 Ampoules

hair growth treatment ampoules

Crescina Follicular 1900 Complete Man 10+10 Ampoules

hair growth treatment ampoules

Crescina Follicular 1900 Man 10 Ampoules

hair growth treatment ampoules

Crescina Follicular 1900 Man 20 Ampoules

hair growth treatment ampoules

Crescina Follicular 1900 Women Complete 10+10 Ampoules

hair growth treatment ampoules

Crescina Follicular 1900 Woman 10 Ampoules

hair growth treatment ampoules

Crescina Follicular 1900 Woman 20 Ampoules

hair growth treatment ampoules

Crescina Follicular 2100 Man Complete 10+10 Ampoules

hair growth treatment ampoules

Crescina Follicular 2100 Man 20 Ampoules

hair growth treatment ampoules

Crescina Follicular 2100 Complete Woman 10+10 Ampoules

hair growth treatment ampoules

Crescina Follicular 2100 Woman 10 Ampoules

hair growth treatment ampoules

Crescina Follicular 2100 Woman 20 Ampoules

hair growth treatment ampoules

Vitabiotics Hairfollic advance her dual pack 30+30

Apivita Hydration Moisturizing Leave In Conditioner 100ml with Hyaluronic Acid&Aloe
Apivita Hair Color Kit N1.0

Apivita Hair Color Kit N3.0

Apivita Hair Color Kit N4.0

Apivita Hair Color Kit N5.0

Apivita Hair Color Kit N6.0

Apivita Hair Color Kit N7.0

Apivita Hair Color Kit N8.0

Apivita Hair Color Kit N9.0

Apivita Hair Color Kit N10

Apivita Hair Color Kit N6.87

Apivita Hair Color Kit N7.8

Apivita Hair Color Kit N8.88

Apivita Hair Color Kit N9.87

Apivita Hair Color Kit N10.81

Apivita Hair Color Kit N5.03

Apivita Hair Color Kit N5.35

Apivita Hair Color Kit N5.85

Apivita Hair Color Kit N6.43

Apivita Hair Color Kit N6.35

Apivita Hair Color Kit N6.78

Apivita Hair Color Kit N7.35

Apivita Hair Color Kit N7.77

Apivita Hair Color Kit N8.38

Apivita Hair Color Kit N9.38

Apivita Hair Color Kit N5.4

Apivita Hair Color Kit N4.11

Apivita Hair Color Kit N5.18

Apivita Hair Color Kit N6.18

Apivita Hair Color Kit N7.13

Apivita Hair Color Kit N4.20

Apivita Hair Color Kit N5.65

Apivita Hair Color Kit N6.44

Apivita Hair Color Kit N6.65

Apivita Hair Color Kit N7.44
Ducray Anacaps Reactiv Capsules 30

Ducray Anacaps Progressiv Capsules 30

Power Health Platinum Hairtone Nails Skin
Eubos Liquid Blue Refil 400ml

Eubos Liquid Red Refil 400ml

Eubos Shower and Cream 200ml

Eubos Shower Oil F Sensitive 200ml

Eubos Sensitive Shampoo Dermo-Protective 150ml
Eva Lax Suppositories x10

Ortis Fruit & Fiber Action Douce 12x10g

Ortis Fruit & Fibres Syr Kids 250ml

Ortis Fruit & Fibres Cubes

Ortis Fruit & Fibres Tabs

Ortis Fruit & Fibres Forte 12 Tabs

Ortis Fruit & Fibres Forte12 Cubes

Diocare Fru-Lax Syrup 200ml

Diocare Dio-Lax Tablets 30s
Zanz Helan Preventive Gel Roll On

Zanz Helan Scented Room Sticks

Parakito Bite Relief Roll On Gel 5ml

Parakito Dry Oil Spray White 75ml

Parakito Tropical Mosquito and Tick Reppelent Spray 75ml

Parakito Roll On Extra Strong Protect Red 20ml

Parakito Strong Protection Green Roll On 20ml

Parakito Protection Green Family Repellent Spray 75ml

Parakito Wristband Dark Explorer

Parakito Wristband Cupcakes

Parakito Wristband Flower Power

Parakito Wristband Crocodile

Parakito Wristband Honey Bee

Parakito Wristband Mermaid

Parakito Wristband Polar Bear

Parakito Wristband Princess

Parakito Wristband Sport Edition Orange

Parakito Wristband Sport Edition Blue

Parakito Wristband Sport Edition Pink

Parakito Wristband Sport Edition Black

Parakito Wristband Party Edition Hong Kong

Parakito Wristband Party Edition Mermaid

Parakito Wristband Summer Time

Parakito Wristband Sea Mermaid and Pirate Double

Parakito Wristband Cool Shark and Pirate

Parakito Wristband Red Print and Scarf

Parakito Wristband Black Print and Scarf

Parakito Wristband Blue Print and Scarf
Sambucol For Children Syrup 230ml

Sambucol Gummies For Kids 30

Sambucol Immunoforte Capsules 30

Sambucol Immunoforte Syrup 120ml

Health Aid Selenium Plus 60 Tabs

Health Aid Zinc Sulphate 200mg 90 Tabs

Health Aid Zincovit - C 60 Tabs

Health Spark Vit C 1000mg S.Free 30 Chew

Health Aid Beta-Glucan Complex 30 Caps

Health Aid Immuprobio Caps 30s

Health Aid Vitamin C 1500mg 60s

Ortis Propex X Spray 24ml

Ortis Propex Express 45Tabs

Ortis Propex Fluidity 200ml

Ortis Propex Comfort 200ml

Nature'S Aid Vitamin C 500mg Chewable 50 Tabs

Nature'S Aid Vitamin C 1000mg 30 Tabs

Ortis Echinacea Propolis Drops 100ml

Ortis Propex Winter Protection 150ml

Diocare Deflu Tablets 30S

Diocare Deflu Syrup 200ml

Solgar Echinacea 520mg 100S

Power Health Oliviotic 20 Tablets

Power Health Platinum Ester C 500mg Tab

Power Health Platinum Vitamin D3 2000Iu 60

Tilman Anticold 180mg Tab 20

Lamberts Echinaea Effervescent 20 Tablets

Lamberts Ester-C 650mg 90 Tabs

Diocare vitamin D3 2000iu& multivitamins 24 effervescent tablets

Ortis Immuno Natural Defenses 60 Tablets

Power Health Ultra Vit-c 500 Mg 120 Tablets

Doctor's Formulas Vitamin D3 2500IU/2.5ML 150ML LIQUID

Vitabiotics Immunace original 30 tablets

Power Health Vitamin D3 2000 Effervescent 20 Tablets

Neo Peques Vitamin C 30 Gummies

Neo Peques Vitazinc 30 Chewy Candies

Sambucol Immuno Forte Black Elderberry 30Gummies

Vital Cold Immune System 20 Capsules

Power Health Vitamin C Kids Chewable 30 Tablets

Power Health Vita-c Kids Effervescent 20 Tablets
Nestle Resourse Thicken-Up Clear 125g

Nestle Resourse Optifibre 250g

Nutricia Diasip Vanilla 200ml

Nutricia Diasip Strawberry 200ml

Nutricia Souvenaid Vanilla 4x125ml

Nutricia Souvenaid Strawberry 4x125ml

Nutricia Nutrison Bottle 500ml

Nutricia Nutrison Energy Bottle 500ml

Nutricia Nutrison Mf Bottle 500ml

Nutricia Protifar Plus Powder 225g

Nutricia Maxijul Super Soluble 200g

Nutricia Nutrinidrink Multifibre Strawberry

Nutricia Nutrinidrink Multifibre Vanilla

Nutricia Nutrinidrink Multifibre Chocolate

Nutricia Nutrinidrink Powder Vanilla
Alcoholic drinks are only available for users over 18 years old.
Confirm your age here.

Health Aid Green Tea 60 Tabs

Health Aid Siberslim 60 Tabs

Health Aid Carboslim Caps 60s

Health Aid Slim-Rite Tbs 90s

Health Aid Bodylean 30 Tabs + 30 Caps

Health Aid 2-Day Detox Plan 100ml

Health Aid Celadrin 550mg Tabs 60s

Health Aid Green Coffee Bean 60 Caps

Health Aid Coffee Slim 60 Caps

Ortis Body Line Detoxine 250ml

Ortis Detox Express 7x15ml

Ortis Detoxine Cranberry Iodine 250ml

Ortis Detox Apple Methodraine 250ml

Solgar Lipotropic Factors Tabs 50s

Solgar Thermogenic Complex 60s

Power Health Flat Belly Effervescent 10s

Power Health Citruslim 60s

Power Health 7 Days Water Shape Efferv. Tab 14

Power Health Green Tea Efferv. 20

Xls Max Strength 120 Tab + 40 Tab Free

Xls Medical Forte x5 180 Tabs

Tilman Elimin Intense 56 Caps

Power Health Whey Protein Vanilla Powder 1kg

Power Health Whey Protein Choco Powder 1kg

Power Health Burn Up 60 Capsules

Power Health Watermelon Body Detox Stevia 20 Effervescent tablets

Power Health Platinum Fat Binder 32 Tablets

Nutrifarma Optidren- Against Excess Fluid liquid 500ml

Higher Nature X-factors 90 Capsules

New Nordic Apple Cider 60 Gummies

New Nordic Fat Burner 60 Tablets

Trec Nutrition Thermo Fat Burner Max 120 Capsules

Metabolic Booster Liquid 500ml

Lungavita Superden Liquid Fiber 14x15ml

Lungavita Superden Liquid Fiber 14x15ml
Ortis Energy Express 10x15ml

Ortis Energy&Endurance 36 Tabs

Power Health Vitamin B12 Effervescent 20 Tablets

Vital Plus Q10 30 LipidCaps

Vital Plus Q10 Effervescent 30 Tablets
Frezyderm Prodilac Restore 30 Caps

Eva Biolact Capsules 20 Caps

Ortis Beneflora Origin Powder 100g

Diocare Symbiotic Chewable Tablets 10s

Higher Nature Probio - Easy Powder 90g

Higher Nature Probio Daily (Lactogest) 30 Caps

Ortis Lactibiotica ex Beneflora 7x10g Sachets

Ortis Lactibiotica exBeneflora 1x15 Tablets

Power Health Platinum Probiozen 15 Caps

Neo Peques Kids Gummies Probiotic 30
Health Aid Vitamin A 5000Iu 100 Caps

Health Aid Junior Vit Chewable 30 Tabs

Health Aid Nail-Vit 30 Caps

Health Aid Calmagzinc Vegitabs 90s

Health Aid Saw Palmetto 265mg 30 Tabs

Health Aid Senior Probio 30 Caps

Health Aid Femprobio 30 Caps

Health Aid Digeston Plus 30 Tabs

Health Aid Iodine 300mcg 60 Tabs

Health Aid Aloe Vera 5000mg 30 Caps

Health Aid Beta Carotene 23.000Iu 30s

Health Aid Cats Claw Tabs 60s

Health Aid Co-Q-10 30 Caps 120mg

Health Aid Co-Q-10 20mg 30 Tabs

Health Aid Even.Prim Oil 500mg 30s

Health Aid Folic Acid 400mg 90 Tabs

Health Aid Garlic Oil Odourless 30s

Health Aid Gericaps 30 Caps

Health Aid Ginkovital 3 100mg 30 Caps

Health Aid Glucosamine 1000mg 30 Tabs

Health Aid Korean Ginseng 250mg 50 Caps

Health Aid L-Carnitine 550mg 30s

Health Aid Livercare 60 Tabs

Health Aid Nurideen Skin Care Nutrition

Health Aid Osteoflex 30 Tabs

Health Aid Osteoflex 90 Tabs

Health Aid Pregnazon 30 Tabs

Health Aid Spirulina 500mg 60s

Health Aid Sibergin 2500mg 30s

Health Aid Vitamin B6 100mg Tabs 90s

Health Aid Vitamin E Cream 75g

Health Aid Vitamin E Lotion 250ml

Health Aid Echinacea 500mg 60s

Health Aid Vitamin B2 100mg 60s

Health Aid Vitamin E 600 Iu 30 Caps

Health Aid Vitamin A & D 60 Caps

Health Aid Even Primr 1000mg 30 Caps

Health Aid Selenium 200mg Tabs 60s

Health Aid Aquaflow Tabs 60s

Health Aid Acetyl -L- Carnitine 550mg 30

Health Aid Atrotone Tabs 60s

Health Aid L-Arginine Tabs 500mg 60s

Health Aid Creatine Tabs 1000mg 60s

Health Aid Neuroforte Tabs 30s

Health Aid Pycnogenol 30mg 30 Tabs

Health Aid Zimacal Eff Tabs (20)S

Health Aid Artichoke 204mg 60 Tabs

Health Aid Osteoflex Eff 20 Tabs

Health Aid Resolife 60 Caps

Health Aid Vitamin B1 100mg 90 Tabs

Health Aid Gericaps Active 30 Caps

Health Aid Healthy Mega Multivitamins 30s

Health Aid Eye-Vit 30 Tabs

Health Aid Haemovit Liquid Gold 200ml

Health Aid Sexovit Forte 30 Tabs

Health Aid Colestroforte 60 Tabs

Health Aid Multi Amino Acid 60s

Health Aid Omega 3-6-9 Capsules 60 Tabs

Health Aid Feverfew 250mg Tabs 60s

Health Aid Koregin 3000 30 Caps

Health Aid Acidophilus Plus Caps(60s)

Health Aid Colonease Caps (30s)

Health Aid Shark Cartilage 750mg 50 Caps

Health Aid Lutein 20mg 30Tbs

Health Aid The Royal 3 30 Caps

Health Aid Starflower Oil 1000mg 30 Caps

Health Aid Osteozin 90 Tabs

Health Aid Omegazon Plus (Co-Q-10) 30s