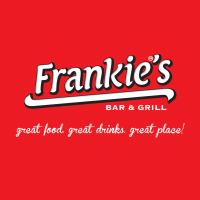 Frankie's Bar & Grill - Agia Napa
Classic Cheese Burger

Burger 200gr on grilled brioche with Cheddar cheese, freshly sliced tomato, iceberg lettuce, pickles and Frankie`s signature sauce

Classic Cheese Burger with French Fries

Burger 200gr on grilled brioche with Cheddar cheese, freshly sliced tomato, iceberg lettuce, pickles and Frankie`s signature sauce. Served with French fries

Frankie`s Burger

Burger 200gr on brioche, with bacon, Cheddar cheese, caramelized onion, iceberg lettuce, tomato, pickles, jalapeno peppers, BBQ and chili mayo sauce

Frankie`s Burger with French Fries

Burger 200gr on brioche, with bacon, Cheddar cheese, caramelized onion, iceberg lettuce, tomato, pickles, jalapeno peppers, BBQ and chili mayo sauce. Served with French fries

Mushrooms and Blue Cheese Burger

Burger 200gr on brioche, with mushrooms sautéed in blue cheese, frankie`s signature sauce, Cheddar cheese, iceberg lettuce, tomato and pickles

Mushrooms and Blue Cheese Burger with French Fries

Burger 200gr on brioche, with mushrooms sautéed in blue cheese, Frankie's signature sauce, Cheddar cheese, iceberg lettuce, tomato and pickles. Served with French fries

Loaded Burger

Burger 200gr on brioche, topped with fried egg, Cheddar cheese, crispy bacon, Frankie`s signature sauce, caramelized onion, iceberg lettuce, tomato and pickles

Loaded Burger with French Fries

Burger 200gr on brioche, topped with fried egg, Cheddar cheese, crispy bacon, Frankie`s signature sauce, caramelized onion, iceberg lettuce, tomato and pickles. Served with French fries

Guacamole Burger

Burger 200gr on brioche, topped with pickled ginger, light wasabi sauce, caramelized onion, iceberg lettuce, tomato and smashed avocado.

Guacamole Burger with French Fries

Burger 200gr on brioche, topped with pickled ginger, light wasabi sauce, caramelized onion, iceberg lettuce, tomato and smashed avocado. Served with French fries

Dry Aged Burger

Dry aged burger 200gr for 21 days, served on a grilled brioche with Cheddar cheese, Frankie`s signature sauce, caramelized onions, iceberg lettuce, tomatoes and pickles

Dry Aged Burger with French Fries

Dry aged burger 200gr for 21 days, served on a grilled brioche with Cheddar cheese, Frankie`s signature sauce, caramelized onions, iceberg lettuce, tomatoes and pickles. Served with French fries

Chicken Breast Burger

Breaded chicken breast deep-fried and served on brioche with honey mayo sauce, iceberg lettuce and fresh sliced tomato.

Chicken Breast Burger with French Fries

Breaded chicken breast deep-fried and served on brioche with honey mayo sauce, iceberg lettuce and fresh sliced tomato. Served with French fries

Vegan Burger

Vegan burger on a grilled bun with fresh sliced tomato, iceberg lettuce, pickles and guacamole.

Vegan Burger with French Fries

Vegan burger on a grilled bun with fresh sliced tomato, iceberg lettuce, pickles and guacamole. Served with French fries

Truffle Burger

Burger 200 gr splashed with truffle oil on grilled brioche with Cheddar cheese, thyme marinated mushrooms, iceberg lettuce, tomato, pickles and golden BBQ sauce

Truffle Burger with French Fries

Burger 200 gr splashed with truffle oil on grilled brioche with Cheddar cheese, thyme marinated mushrooms, iceberg lettuce, tomato, pickles and golden BBQ sauce. Served with French fries
Margherita Pizza

Homemade tomato sauce, mozzarella cheese and fresh basil leaves.

Pepperoni Pizza

Homemade tomato sauce, pepperoni and mozzarella cheese

Spicy Chicken Pizza

Homemade tomato sauce with chicken strips seasoned with Mexican spices, fresh bell peppers, mozzarella cheese and fresh red chili
Salmon Salad

Norwegian salmon fillet, with mixed greens, assorted peppers, cucumber, mixed with Dijon and horseradish dressing

Chicken Caesar Salad

Iceberg lettuce, aromatic croutons, cherry tomatoes, crispy bacon and parmesan flakes, tossed with Caesar dressing and topped with a juicy grilled chicken breast.
French Fries with Cheddar Cheese and Bacon

Sweet Potato Fries

Served with Frankies sauce

Halloumi Sticks

Crunchy fries halloumi sticks served with apricot marmalade, rockets leaves and cherry tomato.

Smokey Chicken Wings

Smoked marinated chicken wings served with BBQ sauce, celery sticks and sour cream
Alcohol consumption is prohibited by law to all individuals under 18 years of age. ID might be required upon delivery for age verification purposes

Alcoholic drinks are only available for users over 18 years old.
Confirm your age here.
Catalog prices include VAT.
Shop address
Agia Napa, Ammochostos
Working hours
Monday

13:30-22:30

Tuesday

13:30-22:30

Wednesday

13:30-22:30

Thursday

13:30-22:30

Friday

Today

13:30-22:30

Saturday

13:30-22:30

Sunday

13:30-22:30
Info
Official Name:
MELPO ANTIA HOTELS LTD

Business Registry Number:
HE176792

VAT Number:
10176792A

Head Office Address:
, ,